Liquor Liability Insurance Louisiana – Protect Your Business!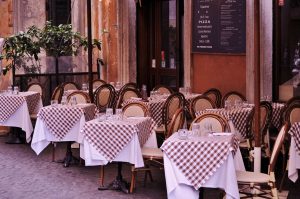 Great deals on Liquor Liability Insurance in Louisiana are waiting for you at Jeff Davis Insurance!
To learn more about the insurance options we have on offer, get in touch with our agency today by phoning 337-824-4455 Monday through Friday up until 4:30 PM CST. The office closes for lunch from 12:00 to 1:00 PM so leave a message or send us your request below using any of the links you see closest to your actual location.
Louisiana Liquor Liability Insurance – Story Recap
In last week's entry, "BIG" George confronted his agent Tony Gumble about coverage for his bar in light of the lawsuit served to his business. Tony nervously informed his client that he did not put a liquor liability endorsement on the policy in order to keep George's premiums low.
George is, naturally, very unhappy.
Liquor Liability Insurance in Louisiana – Coverage Scenario Part 22
"If my policy won't cover me, who will?" Big George asks again.
Tony tugs on his shirt collar to loosen it and gulps.
"I… I don't know, George…" stammers Tony.
Truth be told, Tony does know; but he's too scared of George to tell him that he will have to pay the claim out of pocket.
"You don't know?" George whispers through the phone, menacingly.
"You're g-g-going to have to t-t-talk to your lawyer, George…"
"My lawyer? Why do I need to call my Lawyer?" answers George, indignantly. "Fine, then THAT'S WHAT I'LL DO!"
George slams the phone down and calls his lawyer.
George dials another number and places the call. A moment later, someone picks up the line.
"This is Marky Bubelchio, Attorney at Law. What can I do for ya'?"
"Hey, Marky. It's me, George."
"Hey, Big George. How ya' doin'?"
"Not so good, Marky. That's why I called."
Big George explains the situation to Marky, from the bartender to the dump truck driver to the pork restaurant to the lawsuit to now. 
"Listen, Big George, I'm a criminal defense lawyer. I don't get into civil stuff. I helped you out after that incident last year." 
"Thanks for that, by the way." George adds. 
"No problem. Anyway, as I mentioned, civil suits aren't my specialty. Did they name you in the lawsuit? 
"Nope", George replied. 
Well, to my knowledge, without insurance to cover you, that money is going to come out of the assets of your bar." 
"Tony, you little weasel…" George mutters. 
"Who's Tony?" Marky asked. 
"My insurance agent."
"Hmmm. Well now, you didn't hear this from me, George, but if you have money in the bank account, you may want to, uh, "dispose" of it."
George pauses for a moment.
"You mean dump all my money?"
"No! I mean hide it, ya' goof!"
"Oh, right. Alright, thanks, Marky."
"No problem," says Marky before the two hang up.
How will things play out for George? We will learn more in a future post.
Louisiana Liquor Liability Insurance – Phone Our Company As Soon as Possible.
Don't hesitate! Grab that phone and call our office as soon as possible. You don't want to miss the great low rates that may be available for Louisiana Liquor Liability Insurance in your area.
Our number again is 337-824-4455. Give us a call weekdays before 4:30 pm to speak to an agent over the phone.
If you can't reach us during normal hours of operation, the next best option is to click on a location listed below pertaining to your area. From there you can submit a request for a business insurance quote from our agency: