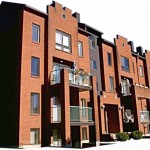 If you are shopping for condo insurance in Lake Charles or any place in Louisiana you have found the right website! 
Jeff Davis Insurance is a leading independent agency offering condo insurance in Louisiana. 
Call 337-824-4455 for Better Condo Insurance Quotes in Louisiana! 
If it is more convenient request an online condo insurance quote when you click on Lake Charles Condo Insurance and one of our licensed representatives will contact you if you have any questions about your quotes.
Choose Your Louisiana Condominium Coverage Wisely!
Purchasing cheap condo insurance in Louisiana could be a mistake that could impact you financially down the road! 
A common error made on Condo insurance is assuming your policy is not really any different from a renter's insurance policy. 
Condo Insurance is Not the Same as a Renters Insurance Policy.
In addition to providing protection for your personal contents a Lake Charles Condo insurance policy can extend coverage to your individual unit in the event the Master Condo Association policy does not extend coverage. 
Please note how coverage is outlined in a typical condo policy: 
Coverage A – Dwelling 
Applies to your residence premises and protects your dwelling and structures attached to your dwelling. It also protects against covered loss to building materials located on your residence premises which are being used in connection with your residence premises. 
While it is true that your Master Condo Association policy likely extends coverage to your individual unit, does it also extend coverage for upgrades to your condo unit? 
Some master condo Association policies do not offer any more than builder's grade coverage. 
Example:  Several years ago you bought a condo that included more than $40,000 in upgrades. A hurricane damages your condo and a claim is submitted under the master condo Association policy.  
Two weeks later you learn that the condo Association will only pay for builders grade fixtures in your condo leaving you in a bit of dilemma. 
To restore your condo to its original condition you will be required to pay $40,000 out of pocket!
Why did this happen?  You did not purchase the optional building additions coverage to cover upgrades on your condo. 
Why You Need To Purchase Louisiana Condo Insurance From the Experts?   
Our insurance experts can help you design the most appropriate Lake Charles condo insurance policy to meet your individual needs. 
It is vital to work with an agency that can help you determine any potential gaps in coverage on your condo insurance policy. 
Call Jeff Davis Insurance Today at 337-824-4455 for better Options on Condo Insurance in Louisiana.
Or use our online rate quote system when you click on Condo Insurance Lake Charles for a quote in 5 minutes or less. 
Condominium Protection offered in the additional areas. Click for an instant rate quote: