Restaurant Insurance Baton Rouge – Competitive Rates on Restaurant Insurance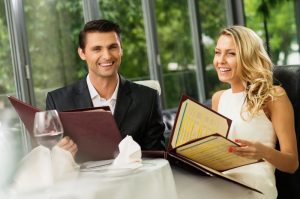 For competitive rates on Restaurant Insurance in Baton Rouge, New Orleans, Shreveport, and throughout Louisiana contact Jeff Davis Insurance at 337-824-4455.
We're open Monday through Friday 8:00 AM to 12:00 PM and 1:00 PM to 4:30 PM CST, and our handy online quote request system is available 24/7:
Baton Rouge Restaurant Insurance – Story Recap
In last week's entry, Tracy had a replacement cost assessment made on the building Pete intends to buy and determined that the replacement cost is estimated to be $1,000,000.
She told Pete that insuring the building for this amount will mean a $27,000 premium for the year.
Pete found this unacceptable, and implored Tracy to find another way.
Business Insurance Baton Rouge – Coverage Scenario Part 14
At Pete's insistence, Tracy relents.
"This is against my better judgment, Pete, but here is what we can do: I can set you up with an insurance plan for the property in the amount of $500,000, which is half of the actual recommended amount."
"Well why didn't you say just that in the first place? I'll go with that plan."
"Because there's a catch to this, Pete. This policy includes a coinsurance clause."
"A coinsurance clause? What's coinsurance?" asks Pete.
"Coinsurance is the percentage of the property's value for which the insurance company requires the policyholder (that's you, Pete) to insure the property before a penalty is levied against you."
"Could you put that in layman's terms for me, Tracy?"
"Of course. The company willing to insure your building has a coinsurance requirement of 80%. Since your building has an estimated value of $1,000,000, that means they want you to insure it for at least $800,000. So if you only insure it for $500,000, then you will be penalized in the event of a claim."
"What's the penalty?" Pete asks.
"The insurance company will not pay the full amount they would otherwise pay for claims that do not involve the total loss of the building." Tracy answers.
"Exactly how big of a deduction are we talking about?" Pete asks.
"Let's use a coinsurance calculator to find out," Tracy responds.
Tracy opens an online coinsurance calculator and runs some numbers.
"Let's say you submit a claim for damage amounting to $5,000. After the coinsurance penalty is applied, and after a $1,000 deductible, the insurance company would only pay out $2,125. That means you would have to pay the remaining $2,875 out of your own pocket. In other words, you would have to pay over 50% of any damages yourself."
"But my premiums wouldn't be as high, right?" asks Pete, for clarification.
"Well, yes, that's right," replies Tracy, with hesitation.
"Then that's what I'm doing," announces Pete with finality. "Sign me up."
How will things pan out for Pete now? Find out next week.
Baton Rouge Restaurant Insurance – We've Got You Covered.
When it comes to Business Insurance for Restaurants in Baton Rouge, we've got you covered. You can reach us at 337-824-4455 or click below to access our online quote request system: