Business Insurance for Restaurants New Orleans – Great Rates on Restaurant Insurance in the Big Easy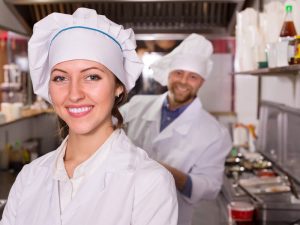 If what you seek is affordable Business Insurance for Restaurants in New Orleans, Baton Rouge, or any city in the state of Louisiana call Jeff Davis Insurance today at 337-824-4455.
You can speak to us by phone any time Monday through Friday before 4:30 PM CST.
Alternatively, select one of the locations listed below to launch our handy online quote request form and submit your request for Louisiana Restaurant Insurance Quotes 24 hours per day, 7 days per week:
New Orleans Business Insurance for Restaurants – Story Recap 
In the last six entries of our continuing story about Squeaky Pete's Pork Emporium, owner Pete Ross has been through a lot.
A power outage ruined an entire freezer-full of food product before opening day, and without a Spoilage Insurance endorsement on his restaurant policy he was not covered for the loss.
Sometime later, a customer in his restaurant slipped on a puddle of spilled vegetable oil, injured himself, and ultimately sued the establishment.
Fortunately for Pete the lawsuit would most likely be covered by his restaurant's liability insurance. 
Next, one of Pete's cooks was severely burned in a kitchen accident.
Pete's ever-helpful insurance agent Tracy informed him that by state law he was required to purchase Louisiana Workers Compensation Insurance before he opened his restaurant, so his policy will provide benefits to the employee for an injury on the job.
Things have finally calmed down lately, but the respite isn't destined to last…
Business Insurance for Restaurants New Orleans – Coverage Scenario Part 7
Six months have passed since Squeaky Pete's Pork Emporium's last incident. Business is good, good reviews are coming in for the restaurant, and things are looking good for Pete. His investment in his restaurant is paying off big time.
It has become very clear that many of Squeaky Pete's Pork Emporium's most popular dishes are the deep fried options. In fact, Pete has had to purchase additional grease fryers.
Pete hires a company called Grease Be Gone to clean his Grease Traps. However, because he is so busy, Pete doesn't notice that Grease Be Gone hasn't come by in sometime to clean the grease traps, allowing them to become jam-packed with grease.
On a busy Saturday evening Pete's grease trap catches on fire forcing his staff and patrons to flee in terror from the restaurant.
What will happen next? Stop by next week to find out where things go from here.
Restaurant Insurance New Orleans – Need Coverage? Why Not Seek Out Some Advice?
If you are in need of New Orleans Restaurant Insurance then why not give us a call? Our licensed agents have years of insurance experience, and would be happy to lend you some advice concerning your coverage needs.
Call us at 337-824-4455 or click below to use our free online quote request form: